The Farm Zone/Party @ the Farm is a small farm in Rock Spring, Georgia. Owners Becky and Aaron Reaves have lived on the farm for the past seven years with several of their children and grandchildren. In 2016, they began offering sensory friendly opportunities for families and organizations in the community. In addition, they have hosted various weddings and some birthday parties for family and friends.
The farm is home to a variety of animals including alpacas, goats, sheep, a zebu, donkeys, a hinny, mini pigs, a mini horse, rabbits, turkeys, ducks, and chickens. Becky and Aaron love to have families come and tour the farm. The animals all enjoy having guest, especially if they have carrots or apples.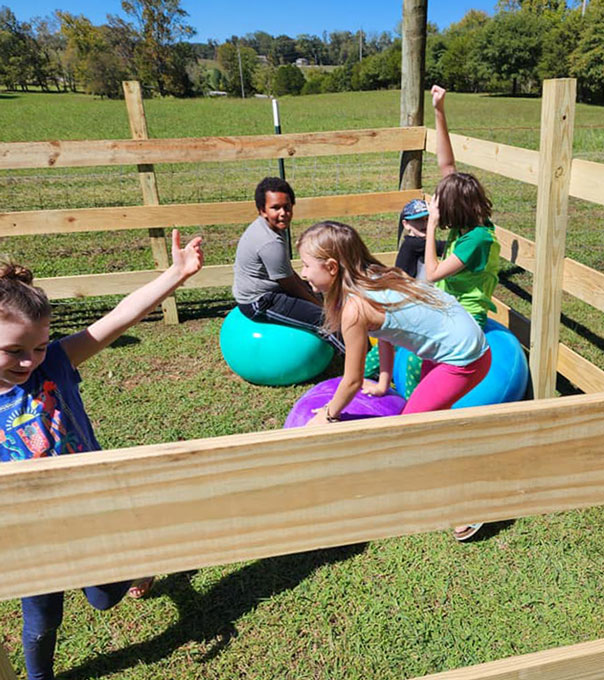 The Reaves family has recently constructed a beautiful pavilion and stable along with habitats for the turkeys, ducks, and bantam chickens. One of the most exciting additions to the farm is the 20' x'24' mud puddle with a 60' mud slide.  Kids (big and small) enjoy playing in the dirt. A report by Brain Balance suggest that playing in the dirt offers many benefits, including boosting the immunity and improved mental health. (See complete article at: here. )
The Mud Puddle is sure to offer a lasting memory for kids of all ages to live like a farm kid. Additional games are available to add-on to parties and events including Pin the Tail on Bubbles, Limbo Outdoors, Corn Hole, Tug of War, Ride a Hoppity Hop and more.
The Reaves family are very excited to offer to the public a beautiful venue with a full farm experience for birthdays, family reunions, school and club events, and special needs activities. 
Come on out and let's Party @ the Farm and get dirty in The Mud Puddle!